Safety Measures
Please review our safety guidelines and additional steps we are taking to keep you, our staff and community safe. 
What We're Doing To Keep You Safe:
Increased our cleaning frequency in high-touch and high-traffic areas using best practices and products identified by health organizations
Installed signage to reinforce physical distancing, guide customer traffic flow and hygiene
Placed hand sanitizer stations throughout the shopping centre
Limited capacity in the shopping centre, all elevators and washrooms
Some seating has been removed and clearly marked as out-of-use to maintain physical distance
Planning Your Visit
If you have any questions during operating hours, text us at 905 218 1630
Select stores are not accepting Upper Canada Gift Cards for Curbside Pickup purchases. Please check in advance with the store prior to making your purchase.
Upper Canada's management team works closely with local government and public health throughout this period and will continue to do so. The health and safety of employees, customers and the community at large is our top priority.
New Ways To Shop
Retailers Offering Curbside Pickup
For your convenience, we are offering Curbside Pickup in clearly marked zones in our parking area. Participating stores will provide you with a pickup location when you complete your order. 
See stores offering Curbside Pickup (hours may vary, check store page for details). 
How to use Curbside Pickup:​
To make a purchase, first check the list and make sure the store is offering Curbside or Pickup. Then, contact the individual store by phone or online to confirm operating hours, the availability of the desired merchandise, and payment options to complete your purchase.​
Go to the designated curbside pickup lot
Pull into a designated parking spot, call the store to confirm your arrival & give them your parking spot number. A store employee will deliver the purchase to the backseat or trunk of your vehicle whenever possible.​​
On behalf of Upper Canada, our retailers and staff, we appreciate your understanding and cooperation with this process.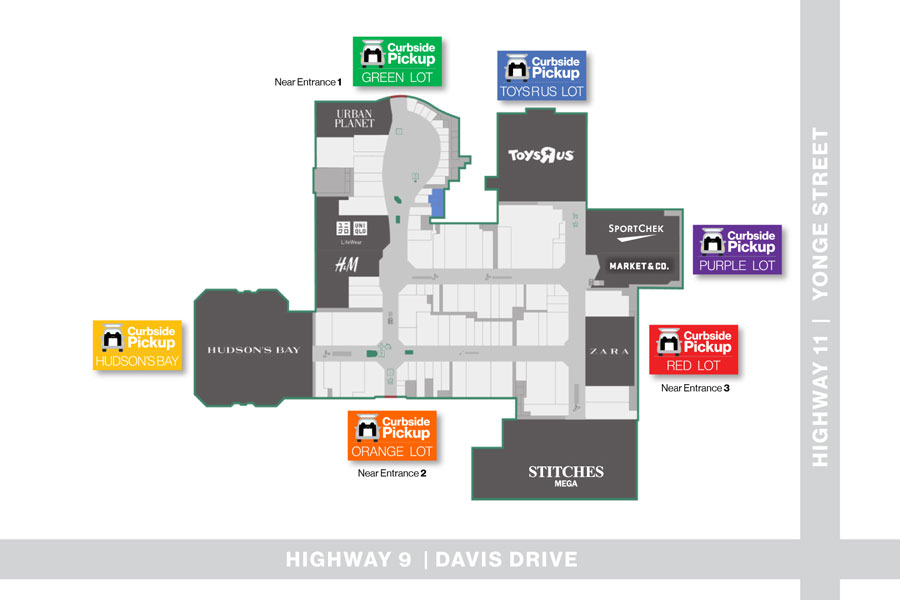 Aerie
Curbside Pickup – Green Lot
905-953-9383 – Visit Website
ALDO
Curbside Pickup- Orange Lot
905-836 9290 – Visit Website
American Eagle
Curbside Pickup- Orange Lot
905-952-0561 – Visit Website
Apple- Red Lot
Genius Bar by Appointment Only
905-952-3400 Visit Website
Aritzia
Curbside Pickup- Red Lot 
905-895-8777 – Visit Website
Banana Republic
Curbside Pickup- Green Lot
905-853-6085 – Visit Website
Browns Shoes
Curbside Pickup- Orange Lot 
905-868-8646 Visit Website
Call it Spring
Curbside Pickup- Red Lot
905-895-6761 – Visit Website
Caryl Baker Visage
Curbside Pickup- Red Lot 
905-836-8577 – Visit Website
Casper
Curbside Pickup- Green Lot 
905-875-0738 – Visit Website
Clothz
Curbside Pickup- Orange Lot
905- 235-2200 – Visit Website
Crossings
Curbside Pickup- Orange Lot 
905-898-7195 – Visit Website
Danish Pastry House
Curbside Pickup- Red Lot 
905-895-2099
Eddie Bauer
Curbside Pickup- Orange Lot 
905-836-5614 Visit Website
Gap/Gap Kids/Baby
Curbside Pickup- Red Lot 
905-836-1738- Visit Website
Guess
Curbside Pickup- Green Lot
905-836-0999- Visit Website
H&M
Available on Instacart – Visit Website
Honey
Curbside Pickup- Orange Lot 
905-836-0040 – Visit Website
Hotbox
Curbside Pickup- Orange Lot
647-341-5333 – Visit Website
Howard Jewellers
By appointment only- Green Lot
905-836-2726 – Visit Website
Hudson's Bay
Curbside Pickup – Yellow Lot
Monday-Friday 10am-6pm
905-853 0986 – Visit Website
Kiddie Kobbler
Curbside Pickup- Red Lot 
905-853-4777 – Visit Website
Laura
Curbside Pickup- Red lot 
905-953-1093- Visit Website
LEVEL Med Spa
Curbside Pickup- Red Lot 
905-836-0500 Visit Website
Linen Chest
Curbside Pickup- Red Lot 
905-830-3629 – Visit Website
L'Occitane en Provence
Curbside Pickup- Orange Lot
905-895-6271 – Visit Website
Lululemon
Curbside Pickup- Orange Lot 
905-853-5399 – Visit Website
Lush- Green Lot
Curbside Pickup 
289-338-0356- Visit Website
Ma's Best 
Curbside Pickup – Purple Lot
905-235-5977 – Visit Website
Melanie Lyne
Curbside Pickup- Orange Lot 
905-830-1401 – Visit Website
Michael Kors
Curbside Pickup- Green Lot 
905-954-1541 Visit Website
Old Navy
Curbside Pickup- Green Lot
905-830-1892 – Visit Website

Roots
Curbside Pickup- Orange Lot 
905-836-9555 – Visit Website
Sephora 
Curbside Pickup- Green Lot 
905-898-6767 Extension 115 – Visit Website
Sport Chek
Curbside Pickup – Purple Lot
Monday – Sunday 8am-8pm
905-952-0160 – Visit Website
Strauss
Curbside Pickup- Red Lot
Email for order and appointment – info@starsmenshops.com
905-830-0310 – Visit Website
The Body Shop
Curbside  Pickup- Red Lot
905-836-5113 – Visit Website
Toys R Us
Curbside Pickup – Blue Lot
905-895-0869 – Visit Website
UNIQLO
Curbside Pickup – Exterior Entrance
289-383-7897 – Visit Website
ZUMIEZ
Curbside Pickup- Red Lot 
905-853-9019 – Visit Website